Description
DESCRIPTION
Providing 8 Years Warranty. It's Free Maintenance with 4000 ~ 8000 Cycles Life Time @ 80% DOD.  
Built-in Smart MCU Battery Management System.

Built-in Bluetooth and Can be Monitoring by App.

Hardware & Software Protection for Charge, Discharge, Temperature.

Over Charged & Discharged Auto Cut-off Protection.

Over Current and Short Circuit Auto Cut-off Protection.

High Temperature Charging or Discharging Auto Cut-off Protection.

Low Temperature Charging Auto Cut-off Protection.

Built-in Cells Auto Balancing Hardware and Software.

Maximum Charge Current Up to 75A.

Continuous Discharge Current 100A.

Grade A Cells Inside and All The Cells are Fully Listed and Meet The UL1642 Standards.

Black Meta Cases that are Hard and Non-Flammable.

With a Detachable Cover and Replaceable BMS & Cells Inside Which Will Strengthen the Lifetime of the Battery.
Note:
Please note that if you need to connect the batteries in series, the batteries should be at the same state of charge ( SOC ) before they are connected.  
PRODUCT FEATURES
Built-in smart MCU battery management system
DFUN lithium iron battery protection board is built-in with hardware and software protection: including hardware protection for discharge overcurrent, discharge short circuit;  software protections: charge over-voltage protection, over-discharge protection,  charge & discharge temperature protection; what's more, built-in battery cells auto balance.
Grade A Cells Inside
DFUN cooperate with the best cell manufacturers, all the DFUN lithium-iron battery pack are using the Grade A Cells inside,  and what's more, all the cells inside are fully listed and meet the UL1642 standards.
Certifications
All the DFUN 12V 100Ah lithium-ion battery packs are certified with UL / CE / UN38.3 / ISO9001  certifications.
Revolutionary battery pack designed
With the black metal case which is hard and non-flammable,

The metal cover is designed for disassembly, and the BMS & cells inside are replaceable so that the battery is repairable and can strengthen the lifetime of the battery.

To ensure the overcurrent capacity and reduce the possibility of cross-polarity, DFUN lithium-ion battery pack built-in high quality and customized thick copper bus connections.
Long Life-time and Long Warranty Time
We guarantee all the lifePO4 battery has a minimum of 4000 cycles lifetime @ 80%DOD, and the designed life is up to 10 years.  Several times lifetime compared to the lead-acid batteries while the weight is only 1/3 of the lead-acid batteries. What's more, we provide 8 years of warranty for all the DFUN 12V 100Amp Hour lithium-ion battery packs.
Widely used
With the ability to handle any deep cycle applications,  DFUN 12V 100Ah LifePO4 lithium batteries are widely used in RV, Van, Camper, Marine, Camping, Solar Home, UPS backup, Golf Cart, and any other off-grid applications.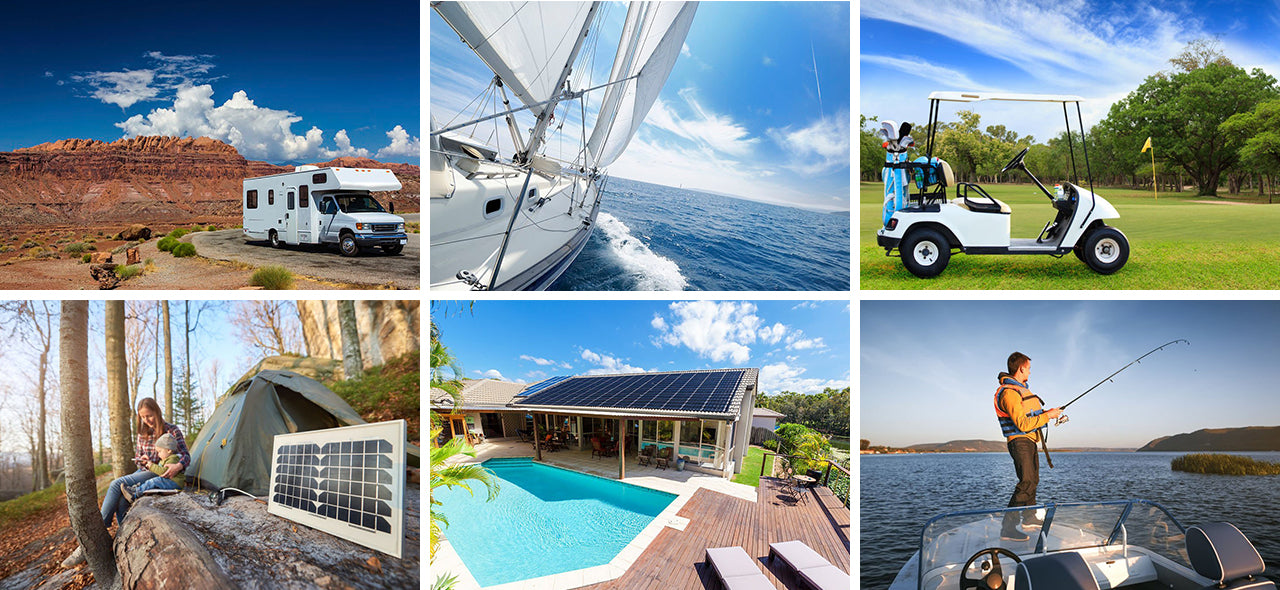 Specifications
  ELECTRICAL PROPERTIES

  CHARGE PERFORMANCE

 Nominal Voltage

 12.8V

Recommend Charge Current

 50A 

 Nominal Capacity

 100Ah

Maximum Charge Current

 75A

 Run Time at 20A Load

 300 Minutes

Recommend Charge Voltage

 14.6V

 Energy

 1280Wh

BMS Charge Cut-off Voltage

 < 14.6V(3.65V/Cell)

 Internal Resistance

 ≤ 28mΩ(50% SOC)

BMS Charge Cut-off Recover

 < 14.4V(3.60V/Cell)

 Self Discharge

 < 3% / Month

Balancing Voltage

 < 13.5V(3.375V/Cell)

 Max Batteries in Series

 4 ( 48v Nominal )

  TEMPERATURE  PERFORMANCE

 Cells

 3.2V 100Ah Cells

 Discharge Temperature

 -4~140℉ (  -20 ~ 60 °C )

  DISCHARGE PERFORMANCE

 Charge Temperature

 32~113℉ (  0 ~ 45 °C )

Continuous Discharge 

Current

 100A

 Storage Temperature

 23~95℉ (  -5 ~ 35 °C )

 Peak Discharge 

Current

 200A ( 1500 ms)

 BMS High Temperature Cut-off

 149℉ (  65 °C )

 BMS Short Circuit Cut-off Current

 500A (500μs)

 Reconnect Temperature

 131℉ (  55°C )

 External Low-Voltage Disconnect

 11.2V ( 2.8V/Cell)

  PHYSICAL  PROPERTIES

 BMS Low-Voltage Disconnect

 10V

 Overall Dimensions  (LxWxH)

 275x210x190mm

 BMS Low-Voltage Recover

 11.9V (2.975V/Cell)

 Weight

 33Ibs

 BMS Short Circuit 

Protection

 500μs

 Terminal Thread Type

 M8

  COMPLIANCE

 Case Material 

 Black Metal Box

 Certifications

 UL1642      IEC62133(Cells)

 Weather Rating

 IP50
Downloads
DFPA12100 LITHIUM IRON BATTERY DATASHEET
 DFPA12100 LITHIUM IRON BATTERY USER MANUAL